HOW TO PREPARE/USE STENCILS
HOW TO USE THESE STENCILS
These stencils are designed for larger projects with intricate designs.
1. Use them to sandblact glass.
2. Use them to carve glass. They are 12 mil thick and will hold up to heavy sandblasting.
3. Use them to apply paints accuartely to a substrate. Spray paints work really well..
4. Brush a thin layer of Glastac glue into the cutouts and sprinkle frit or dichroic extract into them. This will give you a precise design.
PREPARATION
1.
When you receive the stencil, most of the cutouts will
still be on the stencil with the yellow, sticky backing
paper intact.
Leave it that way until you are ready to use it.
2.
When you are ready to use, remove the
backing paper from the stencil.
Do not throw it away.
3.
Begin pushing the cutout pieces through the stencil,
from front to back. Any sharp object smaller than the
size of the smallest cutout can be used.
You may have to reach around the back and pull off
the ones that stick.
Don't worry that your touching the sticky side, there
should still be enough stick left for your needs.
4.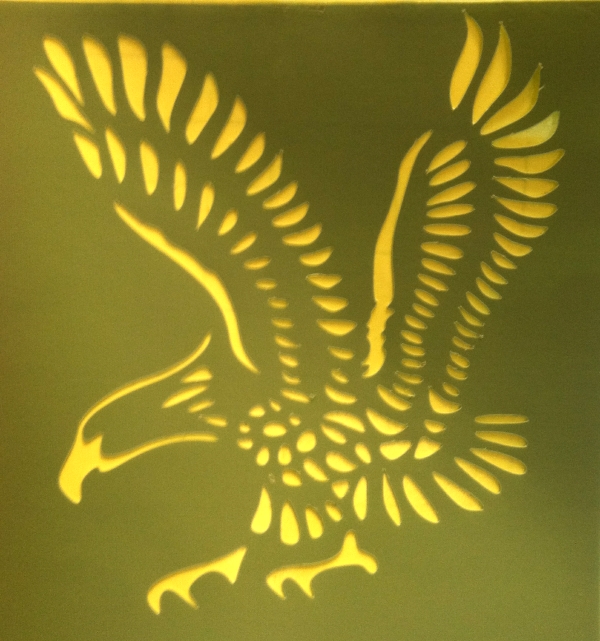 Place the completed stencil back on the yellow paper
until you are ready to use it.
This is a good chance to look at your stencil and see
the design clearly.
Intricate designs, such as this eagle with over 110 cutouts,
can only be cut by machine because of the small size
of some of the pieces We can make any desgin you would
need. Just call or email us..
7. When your ready to use the stencil, siimply remove it from the yellow backing paper and stick it
to the substrate your are using. Cover any uncovered edges on your project with blue painter's tape,
available in any hardware or Home Depot store.
If you are carefull removing it when you're done, you can use it again.
HINT:
If you find there is not enough sticky left on your stencil,
get some Easy Tack at most craft stores.
Follow the directions and spray a coat or two onto the
back of the stencil. it is best to put a newspaper down
first to keep glue off other items.
Let it dry overnight.
CALL US AND TELL US WHAT YOU WANT.
MAKE YOUR OWN UNIQUE STENCILS